Zindoki.com African and diaspora witchcraft.
Fertility Part 3, Example Fertility Working
Fertility Ceremony and Charm to Help Someone Get Pregnant
You will need…
To open the gate:
For the wash:
the contents of one vanilla bean
1 cup crushed cilantro or the equivalent made with dried cilantro and water
1 cup mustard greens
1 mashed up lemon or orange
a handful of rose petals
1 cup of honey or sugar
2 tablespoons sunflower seed oil
sweet water, if needed, to make it spreadable
a square of white or natural cloth
For the talisman:
a black candle
a yellow candle
a square of red cloth
a small piece of jet
a small piece of red jasper
a small piece of pink opal or strong rose quartz
a small piece of citrine
a small piece of amber or a pearl or both
1 gold leaf
5 cowrie shells
some dirt from the head area of a grave of a beloved Ancestor or someone who would like them and want them to have lots of babies…a very kind person
5 caraway seeds
some rose petals
some lavender
the dried skin of the stem area and tip of a lemon or orange
5 pumpkin seeds (unsalted)
a needle that has been consecrated to Ogun, white or natural color thread, and golden beads
Instructions:
The client should bring offerings or money for offerings, and the appropriate offerings should be given to Eshu and Oshun. Then on a waxing or full moon, smoke the client in Eshu and Oshun incense to open the way. You should then, continuing to burn Oshun incense, prance or dance around them five times, clockwise, chanting a request to make them pregnant.
Take them to the bathtub or outdoors. In a yellow bowl, mix the wash ingredients, and then wash them using the white or natural cloth, from head to toe with it. You can prepare this ahead of time if you like. Rub in downward strokes. Afterwards, dance around them and chant five more rounds. Then rinse them off. Don't wash them with soap. They should let the residue stay on overnight, at least 7 hours.
Rinse the white cloth just with water, and let it dry.
Light your black candle for Eshu, and the yellow one for Oshun. Then begin to construct your talisman.
Mark the cloth like this: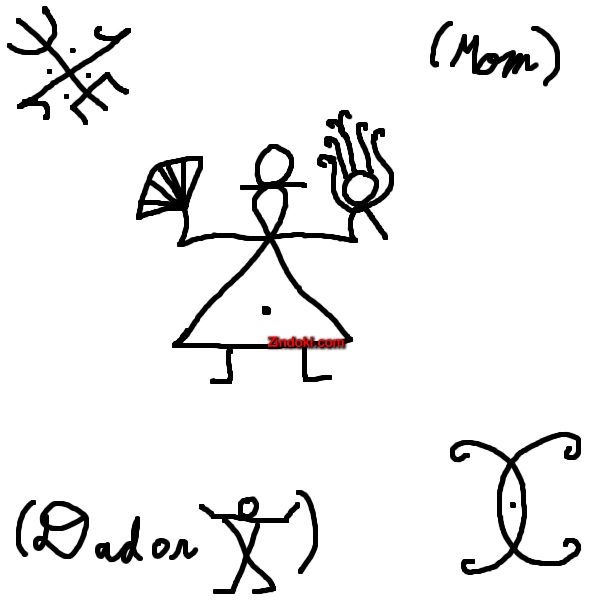 Where it says Mom, put a symbol or the name of the prospective mother. Where it says Dad, put the name or a symbol of the prospective father figure. If possible, put some of the prospective mother's menstrual blood on her symbol, or some of the father's seed on his, or both.
Load the white cloth mindfully with the ingredients.
Fold it closed, and then seal it with wax from the black candle and then the yellow one, giving a prayer to Oshun.
Mark a corner of the red cloth with an Eshu symbol. Then wrap the white packet with it neatly, and sew it closed. Except for the security stitches at the corner, each round should have a golden bead in it. It should end up pretty. You can decorate it with more golden beads and cowrie shells if you like.
The client should place this under their bed or their mattress. Try to get it as close to the center as possible. I like to keep these in heart shaped trinket boxes or a container like some romantic present. If it can be kept in the box in which they were given their engagement ring, this is best.
It should be "fed" every month at the end of menstruation with a few drops of good, clear alcohol like rum or vodka.
It will also be helpful for the woman to wear Fertility Oil, especially when they are having sex.
© 2014 Zindoki.com and Respective Authors
Though some of the information here is traditional, the articles and photos are not public domain. Please do not republish any of the articles or recipes here without attribution and a link back to our site. This website is owned by Sis. Nicole T. Lasher, an active U.L.C. minister and female king of Ile Baalat Teva.