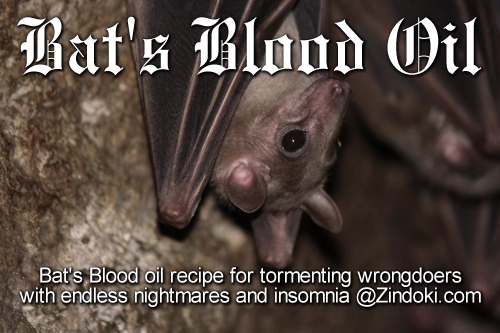 Bat's Blood Oil is used for causing your enemies to self destruct from fright and guilt. It is one of the relatively safer ways that a layperson can curse someone without having to deal with aggressive spirits themselves. The way it works is to make the target extremely attractive to the sort of spirits and unseen creatures who plague the mind with fear of the consequences of their actions. So once the root worker makes and blesses the oil, it can be sold or given relatively freely because it simply performs a natural function. It prevents the target from sleeping soundly with their guilt.
In the old days, it was put on the head, heart, groin, hands, and feet of a black poppet that was clearly labelled with the name of the enemy. Then the poppet would be left someplace they could find it. Then hopefully they would either be frightened and it would trigger their paranoia, or they would think it was a joke and touch it. This would sometimes get people killed or in a lot of trouble though.
Best is if you put it on a gift that you know they can't resist that happens to be black and personalized.
I don't know what is in other people's recipes, but mine is based on what is attractive to bats and beings who usually manifest in bat form.
Bat's Blood Oil
You will need:
3 whole cloves
3 dried scorpions, centipedes, or moths
a handful of some type of nicotiana, preferably the white trumpet flowers
some thorns from local plants, dislodged from the main plant or bulb (because attached = protective while dislodged = aggressive)
a teaspoon of graveyard dirt
some broken glass
4 long coffin-worthy nails
enough canola oil to fill
a 1/2 liter jar
a black cloth
Instructions:
After giving offerings to your Gate Keeper and deities of vengeance, light some warring incense.
Prepare your ingredients on your altar.
Give the jar some smoke, and speak the oil's purpose into the jar.
Add the ingredients mindfully.
Give the lid some smoke, and then close the jar.
Give it a good shake.
Cover the jar in the cloth, and let it set for 3 months.
How to Use Bat's Blood Oil
As mentioned before, it should be put on a black, personalized item that your target will surely touch. If you can get close enough to them, you can also put a drop or two on their pillow. If you can, in the small dose that you will be using on them, you can add some soil or other leavings from the place where they committed the offense you want them tormented for.
If you are a sorcerer or at least daily observant, you can also use this to dress a candle for cursing. Throw the leftovers in the person's yard or stash it someplace near them. Either way, don't touch this too much. Wear gloves when handling this oil, and then throw the gloves away. Try not to get it on your things.
Blessings and Ase!
© 2014 Zindoki.com and Respective Authors
Though some of the information here is traditional, the articles and photos are not public domain. Please do not republish any of the articles or recipes here without attribution and a link back to our site. This website is owned by Sis. Nicole T. Lasher, an active U.L.C. minister and female king of Ile Baalat Teva.